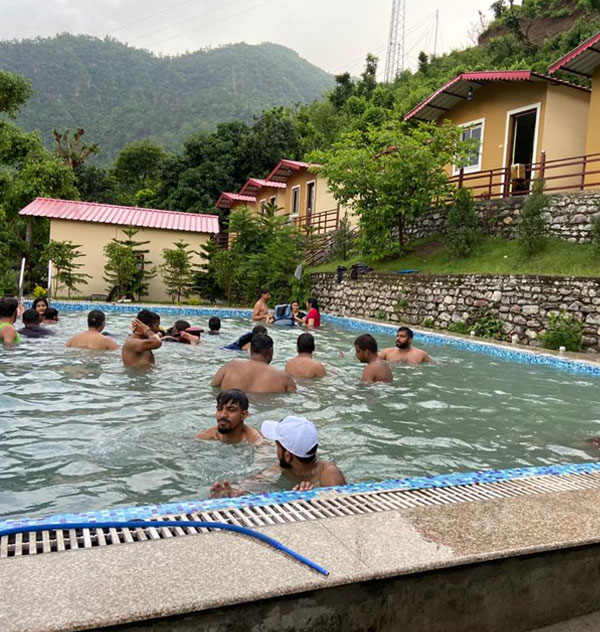 When it comes to luxury camping in Rishikesh , it is most likely on everyone's bucket list. However, Panchvati Cottage is the luxury camp in Rishikesh that will make your stay truly memorable! These camping grounds, elegantly equipped with tents and cabins, offer a variety of conveniences and activities. There's something for everyone, with costs ranging from low to high.
We regularly include a big room in a luxury camp stays in Rishikesh. Wi-Fi, flat-screen TVs, soft beds, and lounge areas are among the modern conveniences accessible. We also offer access to the beach, where you can indulge in diverse outdoor sports. We also have bonfires every evening and even playgrounds for children.
Panchvati Cottage is a luxury cottage nestled on the riverside and is a praiseworthy place for families, friends, couples, and groups. For people seeking a vacation that combines an intimate connection with nature, the freedom of a camping trip, and the comfort of a resort. People worldwide come to Rishikesh and the surrounding areas for camping, rafting, and other activities. That is why Rishikesh is- recognized as an exciting vacation destination.
Panchvati Cottage, a luxury campsite in Rishikesh, gives you the finest of what Rishikesh offers in terms of adventurous activities. From nightly bonfires to hiking to surrounding beaches or jungles, it extends a diverse range of leisure opportunities. White water makes this package more exciting than rafting on the Ganges. Activities including river rafting, body surfing, and cliff jumping are also- included in this package.
Book Now
Panchvati Cottage is considered the best camp in Rishikesh. Rishikesh, nestled in the Himalayas, is one of India's most picturesque camping destinations. Camping in Rishikesh will have you sitting next to a running river, with a forest in the backdrop and birds chirping.
Because Rishikesh is the adventure center of India, Panchvati Cottage is one of the superior camping options in Rishikesh. We provided every amenity, including a cooler, swimming pool, power backup, and a large grass for outdoor activities. As a result, this is one of the top Swiss camp stay alternatives in Rishikesh.
Refresh your mind and body with a lively escape to this iconic rustic cottage overlooking the Ganges. With Ayurvedic spa cures, yoga, and meditation, attempts to titillate your senses.
Campsite amenities are available at Panchvati Cottage-
Attached Toilets
Backup Power
Pool for Swimming
Music is available
Large Lawn for Outdoor Games Including Volleyball, and Badminton
Indoor Ludo, Carrom and Card Games
The river is only 300 meters away from the campsite.
Rishikesh is the most well-known and popular backpacking destination for many travelers. If you're heading to Rishikesh, camping is the neatest way to stay. And it also appreciates nature while making some exciting recollections. We understand that each individual or group will have distinct holiday needs. It is critical to select the package based on parameters such as the number of travelers, budget, day, location of the campsite, transportation, and many others.
Panchvati Cottage With Swimming Pool Highlights
Book this incredible camping experience in Rishikesh. Which is about 200 meters from the Ganga.
Enjoy your stay in a luxurious camp with single, double, or triple occupancy, surrounded by lush green mountains.
Relax by taking a refreshing swim in the resort's outdoor swimming pool.
In the evening, sit outside in the air with your friends and listen to some light music.
Magnificent green mountains surround the swimming pool of Panchvati Cottage. And it is about 200 meters from Rishikesh. So many travelers come here for a peaceful escape. Stay in well-equipped campers with your loved ones and have an unforgettable camping experience surrounded by forests, hills, and waterfalls. Book this adventure and prepare to make some memorable memories of fun with your family.
Panchvati Cottage is in Shivpuri, about 14 kilometers from Rishikesh. This campground features 18 cabins that will make you feel at ease. If you want to spend a weekend with your pals, this is the ideal camping. Apart from the Ganges view and chilled-out nights, there is- a large swimming pool. And a riverfront beach walks just 250 meters obscure from the campsite. A zipline is also available near this campsite.
Camping packages in Rishikesh range from Rs 1200 to Rs 2500 per person, depending on the activities and campground chosen. Rishikesh camping packages vary depending on the season, weekday or weekend, group size, and camp type selected. forest camping, and luxury camping are all options in Rishikesh. So schedule your trip whenever you have the time to visit Rishikesh's camping, rafting, and other activities.
Panchvati Cottage offers early booking discounts to its valued guests to make their vacation more affordable. As a result, the camping packages are reasonably priced. When camping, the most crucial factor to consider is your money. Panchvati Cottage provides a variety of adventure activities at excessively reasonable pricing without sacrificing quality.
We provide- alpine camps in Rishikesh with camping packages to suit every traveler's budget. This campsite has all the necessities. Such as an air cooler and electricity to the campgrounds. And a dining area, activities, a communal toilet, and so on.
Please, contact us via our website or call the number mentioned on the website for more information about charges. Panchvati Cottage worked hard to develop a list of only the top campsites in Rishikesh. If you are going to camp in Rishikesh, we determine we will have a campsite that will meet your needs. We have the best properties in every category, from alpine tent campsites in Shivpuri to riverside beach campsites near Ganga bank or luxury camping spots in Rishikesh.