Quick Contact We Are Ready To Help You
Ganga river rafting in Rishikesh has grown in popularity in- recent years, with adventure seekers from India and abroad taking a trip to the city to see what it offers. The rising popularity of- the sport has naturally led to the expansion of various rafting tour operators in Rishikesh.
So, are you an adrenaline addict longing for another adrenaline rush? Then Rishikesh river rafting should be on your bucket list. Every year, many tourists visit- Rishikesh, and most of- them are pilgrims and adventurers. The tributaries of the Ganges are known to have class IV rapids. As a result, whether you are a novice or a seasoned rafting enthusiast, you will have a wonderful time here. The Ganges' strategic location and the unspoiled landscape that you gaze at made this excursion more enjoyable.
So, with many years of experience in the region and knowledge of the sport, Panchvati Cottage provides the best river rafting. A team of highly trained teachers accompanied each tour. At the beginning of your excursion, we will- give you complete information about the safety standards. We offer all imported rafting equipment items such as paddles, life jackets, helmets, and scrubbed fresh smelling wetsuits. And in winter, we also provide splash jackets.
Highlights of Rafting in Rishikesh-
- In Rishikesh, participate in an exciting white water rafting expedition on the dynamic Ganges.
- Navigate the spectacular grade III and IV rapids amidst the mountains.
- Choose from fascinating courses ranging from 9 to 16 to 32 kilometers.
- Accompany yourself with a trained instructor who will support you during the activity.
We are committed to meeting your needs, be it for excursions or to participate in adventure activities. We are significantly expanding our services and facilities. As a result, we are committed to giving you a stress-free trip while saving you time and money. Occasionally, we will- let you know of different offers and discounts for lodging and flights.
| Rafting Point | Distance | Price | Price For Weeknd | Book Now |
| --- | --- | --- | --- | --- |
| Shivpuri to Neem Beach Lakshman Jhula ( Rishikesh ) | 16 KM | RS. 820/- | RS. 1020/- | Call Now |
| Marine Drive to Shivpuri | 10 KM | RS. 620/- | RS. 620/- | Call Now |
| Marine Drive to Rishikesh | 26 KM | RS. 1220/- | RS. 1500/- | Call Now |
| Barahampuri to Ramjhula ( Rishikesh) | 9 KM | RS. 600/- | RS. 600/- | Call Now |
Rafting in Rishikesh price
The most popular adventure activity in India is river rafting in Rishikesh. In which- a small group of people navigates the Ganges River on an inflatable raft with paddles. Cliff leaping, body surfing, and swimming are frequent activities on a rafting trip. It is an adventure that is affordable to any traveler or visitor. Life jackets, helmets, paddles, and river guides are- provided for the safety of the participants. Rafting packages in Rishikesh start at Rs 600 and vary depending on the portion of river rafting and the weekend.
Conquering the most prominent river in India, the Ganges River is an unforgettable experience. Rishikesh is the pinnacle and one of the world's best locations! Rishikesh rafting on this renowned river runs with about 30 miles of accessible Whitewater Ganga River experience and eventually ends up- flowing through the awe-inspiring Royal Gorge. And under India's oldest and most beloved suspension bridge, "Lakshman Jhula."
Rishikesh has become an ideal destination for rafting lovers, and the Ganga River has become an unattainable river. Panchvati Cottage provides a low-cost but safe excursion for anyone looking to satiate their craving for adventure. If you are planning to begin your rafting vacation, you must seek pricing information. So the cost of rafting ranges from INR 600-1500.
Cottage to River Ganga Distance : 300 Meter Cottage to Main Road Distance : 150 Meter Walking Parking : Road Side Safe Parking
River rafting in the Rishikesh season
Rafting in Rishikesh, in particular, is undoubtedly the best in India. The location has just the best to offer, from the beautiful natural surroundings to the top professional help. There are some certified operators with adequate safety precautions in place. Rishikesh also offers customized camping and rafting trips. If you want to- have a stress-free excursion, the operators will take care of your food, water, and rafting arrangements. Rishikesh gets very crowded during the peak season, so keep that in mind while planning your trip.
Hence, the best season for rafting in Rishikesh is from mid-February to May. However, rafting is available throughout the year except during the monsoon season, which starts in- mid-June and goes on till September.
There are a few things to keep in mind before going river rafting:-
Water rafting does not require any prior swimming experience.
Bring additional clothing, shoes, and clean towels.
To- keep your essentials safe, your guide will pack everything in a waterproof backpack.
Your phone, keys, and flip-flops will be- put in the rafting guide's waterproof bag.
We can get a waterproof camera for a rafting adventure.
However, it's prone to hitting a stone or if the raft turns upside down.
Wear your swimming goggles for a more thrilling experience.
Bring your regular T-shirt (ideally dry fit), shorts, or pajamas.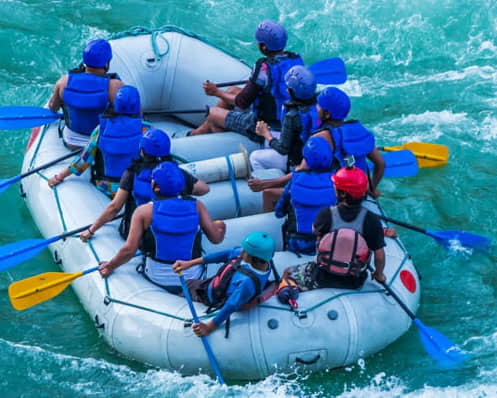 Rafting Package in Rishikesh
Rishikesh is well-known for its calm landscapes, religious significance, and exhilarating adventure sports such as bungee jumping and river rafting. If you want to try something new and curious, don't miss out on this white-water river rafting adventure in Rishikesh. Gush through the powerful rapids while admiring the spectacular mountain scenery. And lush vegetation as you kayak along the pristine waters. Rishikesh river rafting takes you on a 9 km, 16 km, or 32 km trip!
The most popular rafting route in Rishikesh is from Rishikesh to Brahmapuri . It is the shortest route, which- is only 9 kilometers long, and boasts various grand residences. And level 1 and level 2 rapids. Another well-known rafting route is the one from Rishikesh to Shivpuri . This route is around 15 kilometers long and features grade three rapids. If you want to add some excitement to your rafting adventure, you can take the Rishikesh to Marine Drive route. The 25 km long passage is famous for having over 12 rapids of- class three or above.
Rishikesh Rafting prices can range from INR 600 to INR 1500 per person, depending on the difficulty of the rapids. The glorious time to go white water rafting in Rishikesh is after the monsoon and in the early summer. You can combine this journey with other activities such as camping, Bungee Jumping, Cliff Jumping, and trekking to make it even more fun.
Best time for River Rafting in Rishikesh
The best time for river rafting in Rishikesh starts from mid-September after the monsoon ends in North India and continues till May. However, the best time to experience rafting in crystal clear waters is during the winters from November to March.
Age Group For River Rafting In Rishikesh
| | |
| --- | --- |
| Min Age | 14 Year |
| Max Age | 60 Year |
We have a list of adventure activities in Rishikesh for every thrill seeker. Check them out.