Luxury Cottages
Rishikesh, located in the lower Himalayas, attracts multitudes of adventure seekers and tourists who travel here to spend camping vacations. Not only is river rafting popular in the town, but it is also a popular tourist destination in the state of Uttarakhand. It gave the entire Uttarakhand natural beauty and enchanting scenery.
Panchvati Cottage offers visitors an excellent opportunity to reconnect with nature and explore this Himalayan town's hidden beauty. Rishikesh is a lovely town that is only 227 kilometers from Delhi. our cottage offers tourists a delightful mountain experience. Our lodges have spacious bedrooms and living spaces. And private courtyards with breathtaking views of the surrounding Himalayan peaks.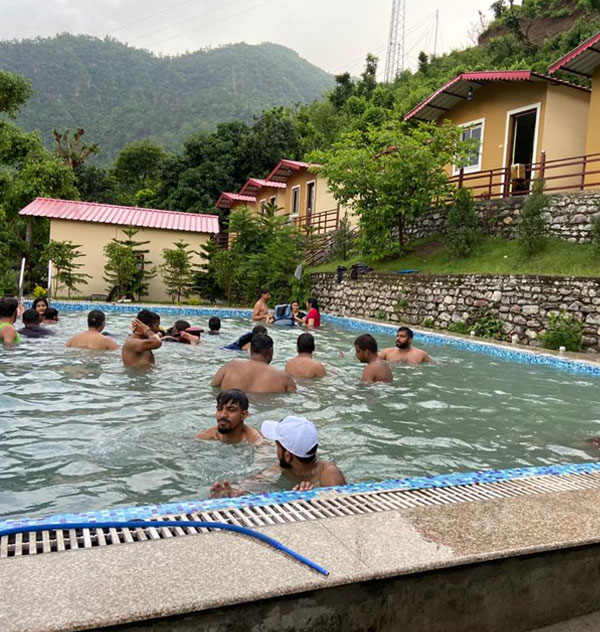 Our unique features include a yoga and spa center, a garden, and a restaurant serving delectable local cuisine. The apartments are spacious and furnished with outdoor furniture to enjoy the cool breezes from the beautiful gardens. Our cottage has a restaurant with- a dining room and a communal lounge that provides continental breakfast every morning. There are- also water sports, hiking, cycling, archery, yoga classes, and other activities available.
Panchvati Cottage, nestled in the lush green highlands overlooking the rushing waters of the Ganges, offers a calm escape from city life. Panchvati Cottage, with modern conveniences, is one of the enormous cottages in Rishikesh. Such as outdoor swimming, green lawns, comfy rooms with incredible interiors, 24-hour room service, and much more. Because of the proximity to the river banks, you may feel your feet on the white sand. So put your worries aside and relax in Rishikesh's peaceful atmosphere.
If you want to spend your vacation in a quiet location with beautiful views, Panchvati Cottage is the spot for you. This cottage is one of the top Rishikesh Cottages for families looking for a low-cost, comfortable vacation. You can calm your body by playing with your children on the lawn and meditating. Or you can merely lie down by the flowing stream and take in the feelings of the Himalayas. Aside from the magnificent atmosphere, the cottage has sumptuous accommodations, 24-hour room service, Wi-Fi, exquisite meals, and other amenities to assure your satisfaction.
Book Now
Cottages In Rishikesh Packages
Riverside cottages in Rishikesh
Panchvati Cottage is- situated alongside the babbling stream of the Ganges. And one of the Best Cottages Rishikesh . Aside from a homey environment, the cottage also provides big rooms, a lobby, balconies, parking, indoor activities, and much more.
During your trip- you can also engage in adventure activities such as rafting and hiking. Enjoy the pleasure of waking up to sweeping hill views. Birds chirping, fresh air, and the soothing sound of the river may all be- heard from your cottage. You will undoubtedly remember these times with your loved ones for the rest of your life.
The magnificent Ganga River that passes through Rishikesh doesn't simply hold religious significance to many. It is, nonetheless, well-known for its stunning views. Our luxurious Rishikesh Riverside Cottage offers guests the opportunity to stay by the river.
Our magnificent resort is- located on the Ganges riverbed. And it provides a calm and serene environment in- which to prepare for a holiday to enjoy the magnificence of nature. We provide a variety of lodgings, from classic rooms to garden lofts to private villas. Our resort also provides an exotic drinking and multi-cuisine dining experience that will ultimately treat you.
Cottage in Shivpuri Rishikesh
With high-end services to complement your stay, Panchvati Cottage is one of the superior cottages in Rishikesh because of its natural environment. Start your day with breakfast and a long stroll among the surrounding woods. The rooms are elegantly designed, with attached bathrooms and balconies. Also included are LCDs and vast glass windows with panoramic views of the mountains. Panchvati Cottage is an excellent choice because of its proximity to- Laxman Jhula and Shivpuri provides.
A splendid combination of- serenity and beautiful views of the Shivalik hills and Ganges, our cottage is one of the best in Rishikesh and provides a luxurious hideaway. The spacious apartments are decorated with hardwood works and have attached bathrooms and balconies.
You can choose from a broad menu that includes Thai, Mexican, Tiberian, European, and Indian cuisines. Our cottage has its spa and wellness facility where you can unwind and recharge. Without a doubt, Panchvati Cottage is one of the prominent Rishikesh Cottages for a good value experience.
Every room here has a TV, air conditioning, and satellite channels. To- make it more fascinating, you can combine a meal experience with the mountain views. It will undoubtedly help you enjoy your holiday and have a rejuvenating experience.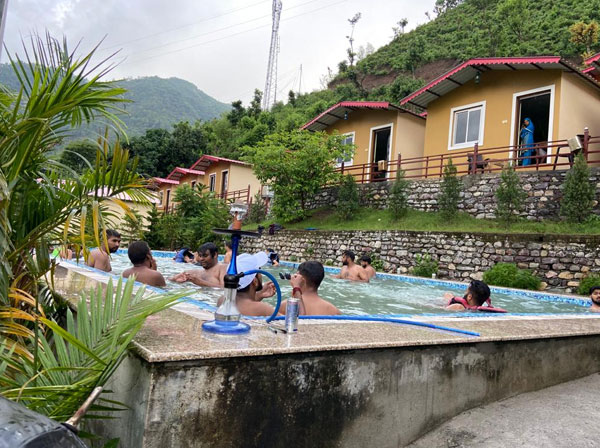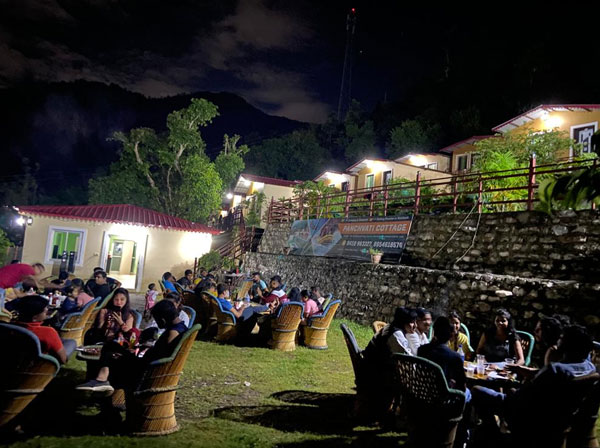 Panchvati Cottages in Rishikesh offers an incredible experience of being near the Ganges in the foothills of the Himalayas.
Enjoy breathtaking views of the Ganga River, which flows right next to the property.
The famed Laxman Jhula is only a few minutes away.
At the rooftop restaurant, savor fabulous dishes prepared with organic vegetables.
Use the Airport Transfer services for a simple commute.