Luxury Camping Packages In Rishikesh To Suit Everyone
Camping Packages In Rishikesh
Panchvati Cottage Camp's camping in Rishikesh is a reasonably priced and exciting option for a trip to Rishikesh. River rafting, Riverside camping, and luxury camping. With these s Camping in Rishikesh Options, you may take part in a variety of adventurous activities including body surfing in the Ganges, yoga, cliff jumping, zip lining, bonfires, waterfall hikes, and Rafting in Rishikesh , among others. We provide the top camping and rafting packages at a cost that works for all budgets.
Get overwhelmed by the iconic beauty and religious heritage of River Ganga by staying at our Ganga River View Luxury Camp and refresh your body and soul with the self-purifying waters of River Ganga. Our camp is just 150 meters walking distance from the road connecting Rishikesh to Upper Uttarakhand and is near the main city of Rishikesh. The unique features of the campsite are:
Ganga River View Luxury Camp
Easily accessible Ganga Beach
Clean and hygienic Camps
Attached Washroom
Neat and clean swimming pool
Dining area, volleyball, and badminton court.
Facilitated with Air-coolers
24-hour Electricity supply
View More
Call Now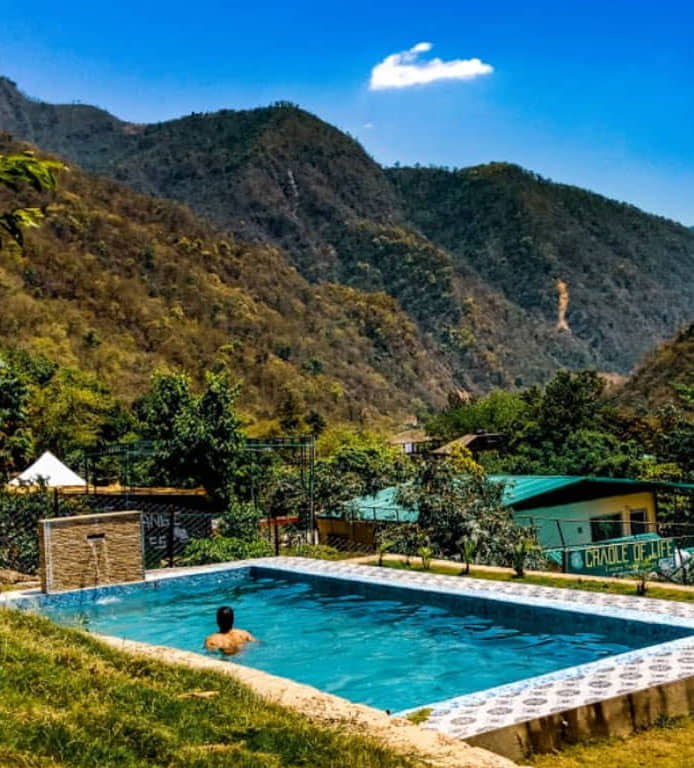 Panchvati Cottage is one of the best luxury camping in Rishikesh with the best quality services at very budget-friendly prices, surrounded by majestic hills and greenery to relax and rejuvenate. The campsite is located just 150 meters away from the main road and is on the banks of the holy river Ganges.
The exclusive facilities provided at our luxury campsite include:
Spacious camps adorned with colourful bed linen, curtains, and carpets
Lavish double beds with comfortable mattress
Soothing homey interior
Attached washroom
Uninterrupted electricity and water supply
Comfortable desk chair and a table
Fan/Air-coolers
Room Service
A clean swimming pool
View More
Call Now
River rafting in Rishikesh is one of the most thrilling experiences that you must try in the sparkly waters of the river Ganges which originates from the glaciers of the great Himalayas. River rafting in the Ganges is unmatched for its clear cool waters, exquisite rapids, and high cliffs surrounded by majestic strong hills and lush green valleys.
Rafting in Rishikesh includes:-
1 Night stay at the campsite in Rishikesh
Ganga River Rafting
Cliff Jumping
Body Surfing in Ganga
Inclusive of meals and snacks
Bonfire and music while stay
View More
"Invest in memories to cherish for a lifetime"
Adventure Activities In Rishikesh
Rishikesh is also known as 'Adventure City' in Uttarakhand. Being the hub of adventure sports, Rishikesh welcomes you to experience the refreshing and thrilling experience to give you a much-needed break from tedious life and give the memories for a lifetime creating a strong stimulus to visit again.
Not only is it popular for being one of the holiest cities in India, but it is also famous for offering innumerable adventure activities. At Panchvati Cottage , we have covered some breath-taking adventure activities that will leave you stunned and refreshed from within.
Also, all adventure activities are carried out keeping safety in mind and under the supervision of professionals.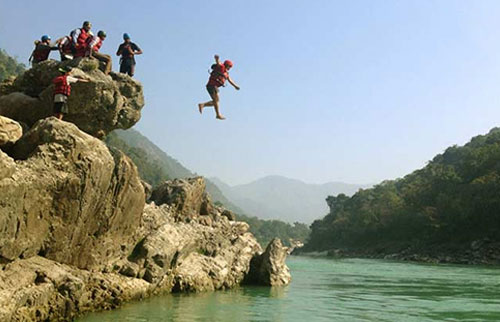 Cliff Jumping In Rishikesh
Cliff jumping is an exciting sport where you can enjoy free fall from a safe height cliff in the cool waters of the Ganges and dive deep to feel the sensation in the whole body. While cliff jumping will make you feel happy, passionate adventurers will feel another victory. Apart from this, you will experience the serene views of the untouched places and the views of the valley.
Body Surfing in Ganga
Bodysurfing is a relaxing water sport where you can feel every wave of the water passing beneath your body and enjoy the absolute lightness in the heavenly waters of the Ganges River. It is an absolute rhythm of getting immersed in and floating on the water which generates happy hormones of excitement and fun.
Water Rafting in Rishikesh
White water rafting is the main pursuit of adventure seekers in Rishikesh. You cannot go back without experiencing the most popular adventure activity of water rafting in Rishikesh. The wonderful experience of rafting in the sparkling waters of river Ganga amidst lush green mountains and riding the flow with splashes of water all over the body makes those moments memorable.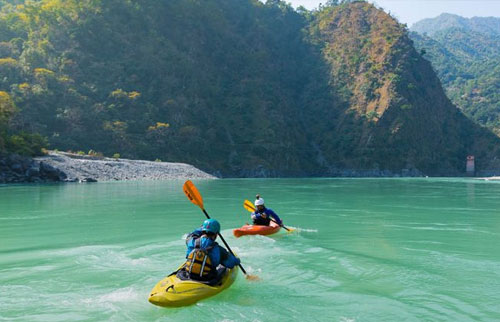 Activities at Ganga Beach
Our campsite is located close to the river Ganges and hence has easy access to the Ganges beaches. During your stay, you can enjoy various activities at Ganga Beach and embrace the beauty of nature, play various outdoor sports like beach volleyball and enjoy other recreational activities. In addition, bonfires, music, and relaxing time will prove to be the cherry on the cake.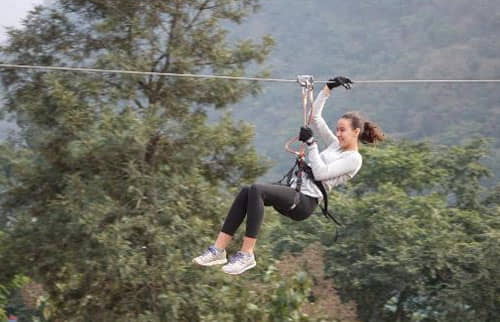 Zipline In Rishikesh
The zipline over the Ganges is like a free-flying bird that soars in the sky enjoying the incredible views of the Ganges River and the strong standing mountains of the valley. Experience the cool and fresh breeze of the air with the astonishing experience of ziplining almost 70 meters above river level.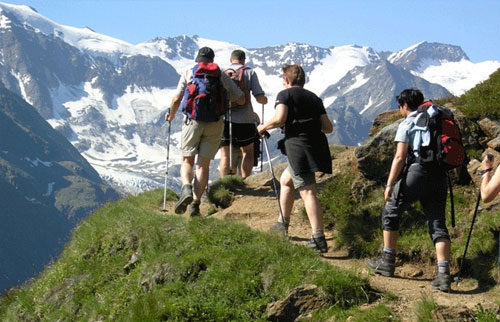 Hiking & Trekking In Rishikesh
Enjoy mountain hiking and trekking with us and explore the wonderful scenery and surrounding villages in the peaceful yet refreshing environment of Uttarakhand. Assess your stamina and strength as you step onto these magnificent cliffs and climb the rocky mountains, and be mesmerized by the simple and authentic local culture.
Camping in Rishikesh, Shivpuri is often an attraction for tourists from all over the world owing to the presence of beautiful and alluring natural surroundings and the breath-taking view of the river Ganges, which makes for an incomparable stay. The camps at Panchavati Cottage in Shivpuri are designed keeping in mind the basic safety and hygiene, best services, world-class facilities, and the essence of being in nature; Peace and happiness.
Camping in nature is not only fun but science has proved that it has many health benefits too. Getting away from the chaos of the outside world allows you to discover yourself, recognize your emotions, breathe fresh air, get a lot of exercises, and reconnect with nature. Plus, recreational and group activities allow you to associate with people from different cultures who share values and ideas.
Also, combining adventure sports with camping will make your trip much more wonderful.
So, make a plan to camp during these holidays!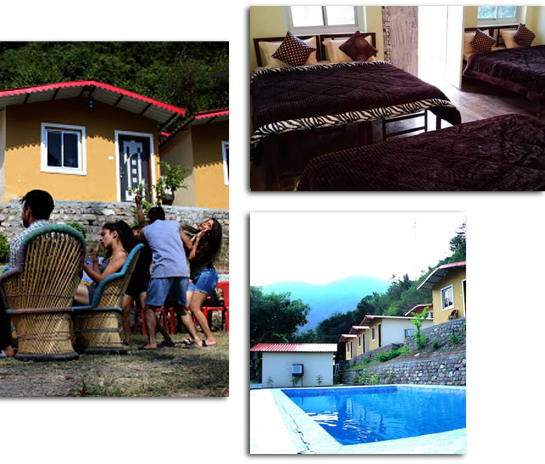 See all activities
Camping In Rishikesh Gallery
Find your next advanture
Things to do With Camping In Rishikesh
Rishikesh is a popular camping destination with a variety of sites and activities. Rishikesh is one of the most popular tourist destinations. River Rafting, camping, wildlife safaris, bungee jumping, giant swings, flying fox, rock climbing, trekking, and other adventure activities are available.
Feel The Real Adventure & Fun With Panchvati Cottage
Rafting in Rishikesh, Shivpuri is not only famous as a weekend getaway among Indians but is also a popular spiritual and adventure destination for foreign tourists. Confirming the International safety standards, rafting in Rishikesh is a perfect destination for everyone seeking adventure. That's why this 'City of Saints' is also called 'The City of Adventures'.
Rafting has been the most popular recreational adventure activity for decades where a limited group of participants uses an inflatable raft to move along the river with the help of paddles. Cliff jumping, body surfing, or swimming are common activities during rafting trips. Every rafting trip is led by a well-trained guide who delivers all the necessary instructions and training to the participants. The price of rafting depends on the distance you wish to cover and ranges from INR 620 up to INR 1500 per person. Basic rafting equipment such as life jackets, helmets, pedals, dry bags, and river guides are provided for life safety.
After coming here, you will feel like doing rafting again and again.
| Rafting Point | Distance | Price | Price For Weeknd | Book Now |
| --- | --- | --- | --- | --- |
| Shivpuri to Neem Beach Lakshman Jhula ( Rishikesh ) | 16 KM | RS. 820/- | RS. 1020/- | Call Now |
| Marine Drive to Shivpuri | 10 KM | RS. 620/- | RS. 620/- | Call Now |
| Marine Drive to Rishikesh | 26 KM | RS. 1220/- | RS. 1500/- | Call Now |
| Barahampuri to Ramjhula ( Rishikesh) | 9 KM | RS. 600/- | RS. 600/- | Call Now |
FAQ - Camping in Rishikesh
October to June end is the perfect time to get away from the hustle and bustle of daily life and enjoy some great camping and rafting adventure at Rishikesh. Rishikesh is known for its stunning natural beauty and breathtaking views of the Ganges river. From October to March end, the weather is at its most pleasant and the river is perfect for rafting and camping.
If you've ever wanted to experience the thrill of river rafting but were afraid of not having the proper swimming skills, you don't have to worry. You can still go rafting without any swimming skills and still remain safe. We provide top quality life jackets that keep you safe in the river and even if you fall during the rafting session, the life jacket will float you for up to 72 hours. So what are you waiting for? Grab your life jacket and let's hit the river!
We all need a break from the hustle and bustle of city life every now and then. If you are looking for a peaceful, serene escape from the city, then why not consider camping in the beautiful hills located just 15-16 km away from Rishikesh city? Camps in this area provide the perfect opportunity to experience the beauty of nature, while still being close enough to enjoy the attractions and amenities of the city.
Camps in Rishikesh are now mostly luxurious, equipped with great amenities, such as attached bathrooms and air coolers within the tents. They are also completely safe for children. However, river rafting can only be done by kids aged 12 and above.
To reach Rishikesh, one can take a train to Haridwar, which is the closest railhead. From there, several buses, taxis, and auto-rickshaws are available to take people to Rishikesh. Alternatively, one can also take a flight to Dehradun, which is the closest airport, and then take a bus, taxi, or auto-rickshaw to Rishikesh.
What's Our Client Say
Camping in Rishikesh Customer Reviews
I want to thank you- the team of Panchvati Cottage, for making my trip so memorable. I found Panchvati Cottage, the best camping in Rishikesh. I loved adventure activities during the rafting trip from Shivpuri to Rishikesh (16 km rafting session).
I recommend Panchvati Cottage for the best camping stay in Rishikesh without thinking a second. Panchvati Cottage is the best place for all activities full of joy and the best experience. I want to connect with you again and again, at least once a year.
I found Panchavati Cottage, an excellent campsite in Shivpuri near Ganga Beach. You should- prefer to book in advance. Because if you come on weekends, there is a problem regarding the availability of the camp. Also, enjoy night music, bonfires, and riverside activities on the river Ganges.
Thanks, Team Panchvati Cottage, for such a memorable experience. I enjoyed camping, River Rafting, and other activities like bonfires, volleyball, and riverside excursions. Excellent camping in Shivpuri Rishikesh - well-bedded, clean, and comfortable tents. And very close to the Ganges beach.
In Rishikesh, do you want to go camping or rafting? Without hesitation, I recommend Panchvati Cottage. It's a place where you may participate in all of the activities while having a great time. The dish was delicious, with a hint of pahadi. At least once a year, I'd like to join you again.