Rishikesh, the city of Lord Shiva, where you will feel like heaven, and to make your experience even more beautiful, we welcome you at Panchvati Cottage.
Why Panchvati Cottage In Rishikesh
Panchvati Cottage is located in Shivpuri, Rishikesh where you will find happiness, peace, rejuvenation, joy and adventure all in one place. Amidst the great beautiful mountains, the cold and fast flowing river Ganges, lush green trees and plants and boundless peace; that's what everyone wants. It is such an idyllic place where you can enjoy the immense beauty of nature.
Panchvati Cottage is 6 years old government-registered property.
Panchvati Cottage is just 200 meters from the National Highway.
Being amidst the soothing countryside and nature, the cottages help you to enjoy utmost pleasure away from the hustle and bustle of the outside world.
At these Jungle Cottages, you can fully enjoy nature's relaxation and adventure activities.
Our entire property is under CCTV surveillance to ensure utmost safety and security.
About Panchvati Cottage
Panchvati Cottages has 18 luxury cottages spread over three terraces so that every visitor can enjoy the splendid beauty of nature. All the cottages are at a certain distance to ensure complete privacy and comfort. The traditionally designed cottages with modern amenities help you stay connected to your basics while enjoying the contemporary style. The beautiful small gardens spread across the entire property helps to accentuate the peace and serenity to the next level.
Book Now
Cottage Categories
All the 18 luxury cottages comprise of total 72 beds and are divided into three categories as follows:
Couple Cottage In Rishikesh
Total No. of couple cottages: 6, Facilities Provided: Each cottage consists of 1 Double Bed, 1 Air Cooler, and an attached western WC.
Book Now
Family Cottage In Rishikesh
Total No. of Family cottages-6, Facilities Provided: Each cottage consists of 2 Double beds, 1 Air Cooler, 1 Table Fan, and an attached western WC.
Book Now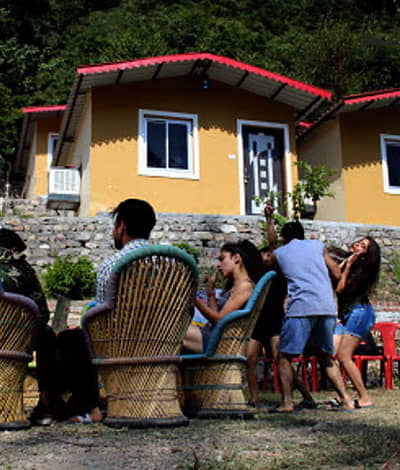 Group Cottage In Rishikesh
Total No. of Group cottages-6, Facilities Provided: Each cottage consists of 3 Double beds, 1 Air Cooler, 1 Table Fan, and an attached western WC.
Book Now
Bonus Points with All Cottage Rooms
Each cottage room is fitted with PVC panels to avoid any moisture problems.
In addition, the windows of each room offer a beautiful mountain view, and some rooms even have pleasant views of the river Ganges.
Swimming Pool
A vast swimming pool with a depth of 3.5 feet to 4.5 feet adds to the charm of Panchvati Cottage. It is thoroughly cleaned daily to give you the best experience. The closing time of the swimming pool is 8 pm.
All About Food
Each package includes a three-time meal which starts at lunchtime as the check-in time is 12 in the noon and the check-out time is 10 in the morning.
Lunch, Dinner, and Breakfast are served only at the scheduled time, after which we will provide no food.
Meals will be served only in the dining area, not in the cottage room. However, we can deliver food to your cottage on special request.
If you wish to eat something other than the menu of the package booked, it can be made to your order but will be limited to the dishes available on the menu.
You can bring in outside food at your own cost, but we will not deduct any amount from your package in exchange for your meal.
DISTANCE OF PANCHVATI COTTAGE FROM NH 58
Panchvati Cottage is at the height of 200 meters from the National Highway. You will not have any trouble finding Panchvati Cottage as everyone in and around Shivpuri knows our cottage very well.
Two-wheelers can straightway reach the cottage, but in the case of four-wheelers, you have to park the car on the roadside safe parking. If you have luggage, you can call us, and we will send someone to pick up your items.
DISTANCE OF PANCHVATI COTTAGE FROM DIFFERENT PLACES:
River Ganges is just 300 meters away from Panchvati cottage so you can easily walk to the river whenever you want.
ATM, petrol pump and different restaurants are within 500 meters of the cottage.
RECREATIONAL ACTIVITIES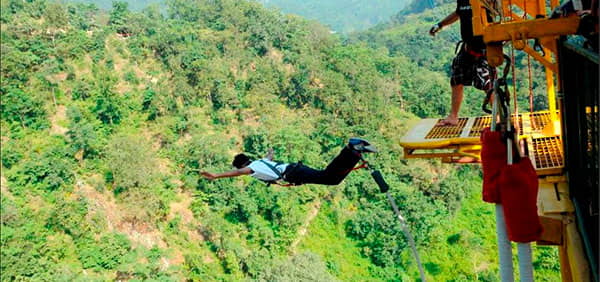 Indoor and Outdoor Activities
Panchvati Cottage opens diverse doors for home activities like Badminton, Carom, Ludo, and Chess to entertain your leisure time, and world-famous outdoor adventure activities like River Rafting , Bungee Jumping, Flying Fox, and Zipline.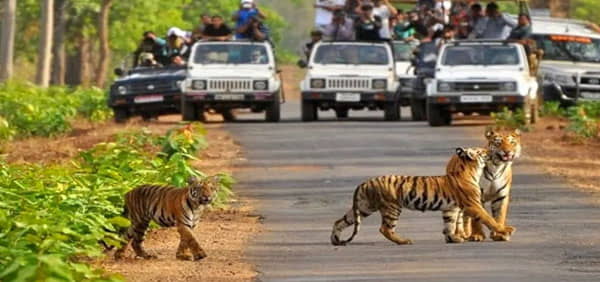 In the City
Also, we will give you nearby information, making it easier for you to walk around the city and experience the divine Ganga Aarti, important pilgrimages and temples, and visit Rajaji National Park for wildlife safaris.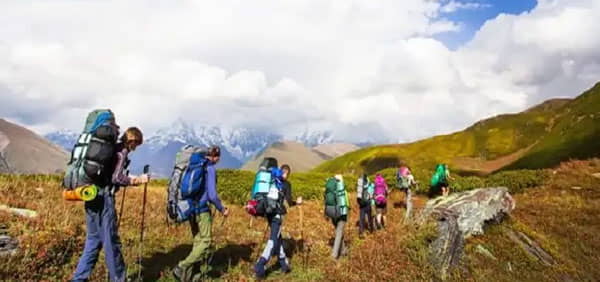 Trekking
To make your trip memorable, you can go for nature walks, rock climbing, enjoy trekking or even sit by the banks of the Ganges River to let yourself unwind.
MUSIC AND BONFIRE
After a long day and enjoying the adventurous activities, you can completely relax with music and a bonfire at the campsite every evening from 6.30 pm to 10 pm and prepare yourself for yet another exciting new dawn.
CELEBRATE YOUR SPECIAL DAYS WITH US
These cottage rooms can be your best destination for small parties like birthday parties, anniversary parties, or other small gathering parties to make your special days unforgettable.
(NOT AVAILABLE FOR MARRIAGE).
ADVENTURE ACTIVITIES AT RISHIKESH
The River rafting in rishikesh at the Ganges is self-organized by Panchvati Cottage so that you can book rafting from different distances at your convenience. The details of distance covered in River Rafting at Ganges are as follows:
| | | | | |
| --- | --- | --- | --- | --- |
| Range covered | 12 kms | 16 kms | 26 kms | 9 kms |
| Distance from Cottage | 12 kms | 0 kms | 12 kms | 8 kms |
For your convenience and on your behalf, we can book adventure activities of your choice, or you can also make a direct booking with the adventure companies.
And for all other adventure activities, we have tied up with various companies like:
Jumpin Heights: It is at 20 kms from the Cottage.
Heiker Adventure Park: It is only 1 km away from the Cottage.
Zipline Adventure: It locates just 10 meters away from the Cottage.
IMPORTANT POINTS TO CONSIDER
The timing to enter this property is from 6.30 am to 10 pm
We have an experienced staff of 12 people who are proficient in Hindi and English. Our team wholeheartedly ensures your convenience and comfort in every possible way.
A doctor can be made available on call in case of a medical emergency. Any emergency vehicle can also be arranged if needed.
The cottage does not have laundry facilities, so you will have to make your laundry arrangements.
All mobile networks are available here, so you will not face any inconvenience.
It is strictly forbidden to keep any weapon like a gun in the cottage, even if you have a license.