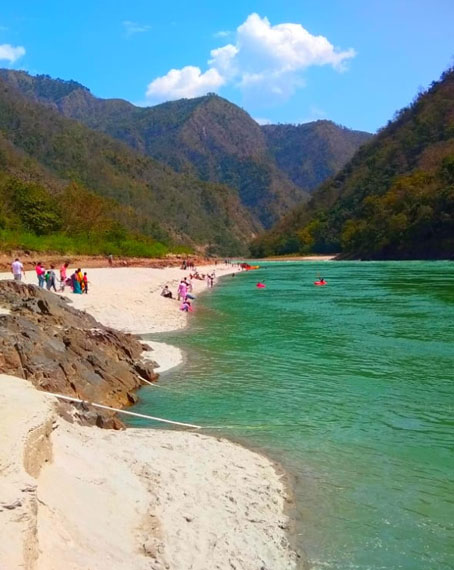 Camping in Rishikesh, Shivpuri, offered by Panchvati Cottage, is instead reasonable. And the best adventurous option is to stay in Rishikesh. The best camps in Rishikesh options available in Rishikesh are riverside camps, beach camps, jungle camps, and luxury camps. With these camping options, you can indulge in various adventure activities like Rafting in Rishikesh , cliff jumping, zip line, campfire, waterfall trek, bungee jumping, yoga, body surfing on the Ganges, etc. We offer the best camping and rafting packages at an affordable price that fits all budgets.
4 Best Camping Places To Book Camp In Rishikesh
Ganga River View Luxury Camp
Affordable Luxury Camping
Luxury Camping in Rishikesh
Book Now
Camping Packages in Rishikesh
Camping in Rishikesh Shivpuri
Rishikesh Camping & Rafting is one of the best adventures. And weekend getaway destinations, providing an ideal environment to create memorable memories in Uttarakhand. The panoramic and mesmerizing views of- the Himalayan valleys add to the traveler's excitement. And thrilling adventure activities in Rishikesh add to their excitement.
Camping in Shivpuri Rishikesh offers you spectacular views of the rugged and wild landscape. And is the perfect getaway for those who seek a wonderful experience and want to get closer to nature.
Rishikesh camping packages start from Rs 999 per person and include a night bonfire, music, snacks, meals, stay in tents, riverside activities, and games at camp.
Contact us via WhatsApp to receive photos of this campsite.
Shivpuri Nature Camping in Rishikesh
Just 150 meters from the Ganges, this is one of the best campsites in Rishikesh. It takes 5 minutes to get to Ganga Beach and enjoy the activities with safety equipment there. While camping in Rishikesh, you can indulge in many- adventure activities like rafting, kayaking, hiking, rock climbing, cliff jumping, zip-lining, etc.
This luxurious campsite in Rishikesh offers you a camping air cooler and electricity supply at an affordable price. Trust us- you will not find other proper camps in Rishikesh
Riverside Camping in Rishikesh Shivpuri
Riverside Camping in Rishikesh is a great weekend getaway for people living around Delhi, Noida, and Rishikesh. It is the dream of many to stay in a camp near the Ganges and enjoy the beauty. And the serenity of nature. Panchvati Cottage offers- riverside camping in Rishikesh. Along with a variety of adventure activities . That offers- its guests a unique and unforgettable camping experience.
Luxury Camping in Rishikesh Shivpuri
In the hustle and bustle of the city, we don't have an opportunity to explore nature and enjoy its beauty. Camping is the perfect place to explore the unspoiled beauty of nature. And that is why we are creating a luxury campsite with all the facilities that offer a memorable and fun luxury camping experience in Rishikesh. Our luxury campsite in Shivpuri offers accommodation in Swiss camps with attached toilets and a swimming pool. Shivpuri Camping packages start from Rs 1800/person.