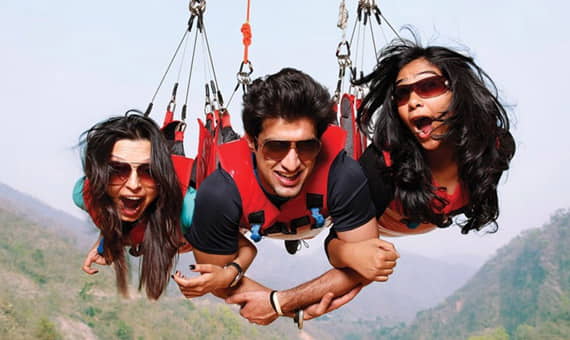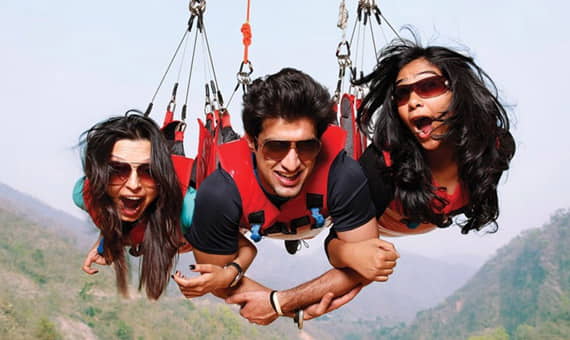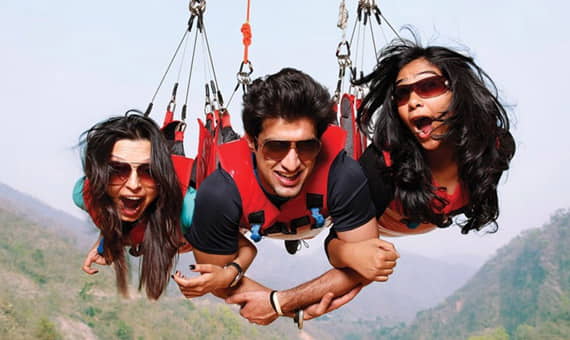 Flying Fox in Rishikesh
Experience an entirely contemporary Flying fox in Rishikesh, amidst the wondrous and composed land above the brook of River Ganges. Drift away with your affectionate buddies and expedite with the cool breeze to encounter a disparate in Rishikesh, Flying fox is undeniably the most amazing yet spine chilling sport that we're offering to our sports enthusiasts. Flying fox India have space for 3 people (including you) in the Tandem and if you want to experience it all alone, you can do it but at an extra cost. After Flying fox, walk up to the cafeteria to relax your hyper-excited nerves and collect the photographs of your experience.
Fly at 140 Kmph on Asia's Longest Flying Fox, Rishikesh!
Details of Flying Fox :
Jump Length: 1 KM
Platform: 120 mtrs high
Speed: 140 Kmph
Requirement :
Age : Min 12 yrs
Platform: 120 mtrs high
Weight : Min 20kg - 130kg
Highlights of Flying Fox in Rishikesh-
You are fastened to the wire and released by gravity in the Flying Fox method. Roll down the wire to a height of- up to 7 meters above the river level, then fly back up, eventually returning and settling at the lowest point. Accelerate up to 160 kilometers per hour. Feel the rush of air as it rushes by. A retrieval mechanism pulls you back to the launch platform.
Take part in this thrilling activity while being supervised by highly qualified instructors.
Witness the breathtaking vistas of the lush green mountains and the Ganges' brook.
In Rishikesh, you may soar up to 140 kilometers per hour on Asia's longest flying fox.
Stay in the air for a one-kilometer distance.
After- you've completed this thrilling exercise, get your 'Dare to Jump' certificate.
With this flying fox sport in Rishikesh, glide among the breathtaking mountainscapes several meters above a rippling river. Slowly drift away, feeling the speed increase to 160 kmph. And then slide down the wire until you're around 7 meters above the river's level. Climb the whitewater rapids while connected to a network of abnormally dynamic steel cables via a harness and pulley.
Want to go on an adrenaline-fueled adventure but are afraid to do it alone?
Three is the best number to take on this thrilling task in this experience! You can fly at- 140 kilometers per hour on Asia's longest Flying Fox ride in Rishikesh, India! New Zealand professionals created the ride, and you'll work with seasoned adventure sports enthusiasts before going on it. Three people in tandem do the fox, so you'll be flying with your closest friends. Soar across the lovely scenery with your friends and shout your lungs out. You claim your Dare to Jump certificate after walking down to the cafeteria.